West Michigan Savoyards is a Gilbert & Sullivan performing company that seeks to enrich the community of greater Grand Rapids and West Michigan and make community theater available to senior citizens and students.
Our 2013 production of The Pirates of Penzance was a huge success! Attendance records were broken with over 1100 attending the five performances. The Senior Matinee was nearly sold out. Thanks to all who attended for your support. Special thanks to the cast and crew who spent countless hours rehearsing, building sets, sewing costumes, and more.
Our scholarship program was initiated in 2013. Twelve area high schools were represented with essay papers relating The Pirates of Penzance to subjects including English, Government, Drama, Choir, and after school athletics. Click here for a list of winners, finalists, and details for our 2014 Scholarship.
2014 Production: May 15th to 18th  — Wealthy Theater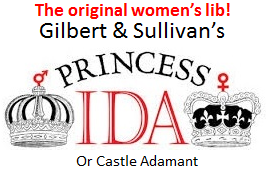 Showtimes (click a time to buy tickets online):
Thursday: 7:30pm
Friday: 1:00pm Matinee and 8:00pm
Saturday:8:00pm
Sunday:2:30pm
Will Princess Ida's refusal to give her hand in marriage ignite war between two kingdoms? Or will she succumb and risk derailing the future of women's independence? Gilbert and Sullivan's comic opera, Princess Ida, calls into question the differences between men and women and the topsy-turvy impact of evolution.
Princess Ida brings together three epochs in history. The medieval period (or, perhaps, a fairy tale version of that time), the Victorian era, and contemporary America will coexist during this performance. It is intriguing to think about combining some of the essence of a fairy tale kind of medievalism and Victorianism in one show. We'll see bits of feudalism, arranged royal marriages, oppression of women, Darwinian thought, militarism, men behaving like Troglodytes, and an enduring and endearing element in every culture.
SYNOPSIS
"Princess Ida", a respectful perversion, as Gilbert called it, of Tennyson's poem, "The Princess," is a simple tale of two kings and the son of one of them and the daughter of the other. King Hildebrand a good, but peppery potentate, has the son, Hilarion. We find them awaiting the arrival of the other king, Gama, who has a warped body and soul, and a daughter, Ida. Twenty years earlier, Prince Hilarion and Princess Ida had been married, though the groom was twice as old as the bride; not that that mattered very much, since he was only two. Today they are to meet again, for the first time since they shared a wedding breakfast of a glass of milk and a rusk. King Gama is under contract to produce the bride this very day.
Instead, he brings his three hulking sons, Arac, Guron and Scynthius. He tells King Hildebrand, with some relish, that Ida is not going to honor the wedding vows. She has renounced the world of men and is running an exclusive women's college at Castle Adamant. Hildebrand reacts sharply to this news; the sense of his observations could be rendered roughly as "Stick the old boy in the cooler until the girl sees sense."
The second act takes us inside Castle Adamant, where hitherto no male foot has ever fallen, where even cockcrow is performed by an accomplished hen. We meet Ida herself and her Deputy Principal, Lady Blanche. We soon sense the high academic tone and the low opinion of men ("nature's sole mistake" seems a little severe, don't you think?) that prevails within these walls. Prince Hilarion, not content to wait for Ida to return to him, has come in search of her with his princely friends, Cyril and Florian. They climb inside and make shift for a time to disguise themselves in women's academic robes. They have a narrow escape when Florian finds his sister Psyche on the staff, but she agrees to keep quiet. Lady Blanche is a tougher proposition – she sees at once that the girlish trio breaks down vocally into two tenors and a baritone, but her silence, too, is secured.
Then Cyril spoils everything by getting tipsy. Overcome by the revelation that three young men have forced their way into Castle Adamant, Princess Ida falls from the ramparts into the river. Hilarion rescues her, but the ungrateful girls orders him to the dungeons with his two companions. It is at this point that King Hildebrand arrives on a punitive expedition. After rampaging a little, he is persuaded to give Ida twenty-four hours to consider her future.
Ida decides to fight, but the third act show us that she is the only one who thinks this is a good idea. Her father, King Gama, arrives to mediate, with the proposition that Ida's fate should hang on the result of a duel betwen Gama's three sons and the Hilarion trio. It looks like a certainty for the big men, but the fight goes the other way. Ida finds her cause is lost, and, having brought everyone to the brink of disaster, she perversely declares that she loves Hilarion after all.
Comments on Tennyson's poem, "The Princess: The poem was composed because of Tennyson's growing interest in the state of women's equality in his country, particularly in regards to education. There is evidence to suggest he discussed the issue with his fiancée, Emily Sellwood; he may have also been responding to the 1847 creation of Queen's College, London, the first women's college in Britain. Tennyson's son's memoir stated that his father once said, "the two great social questions impending in England were 'the education of the poor man before making him our master, and the higher education of women'."